AYRSHIRE AND ARRAN

There are two Ayrshires. In the north there is the rugged, untamed high lands together with seaside towns, while the south is more reminiscent of the Borders with rolling pasture lands and country villages.

The town of Ayr is blessed with long stretches of sandy beach, superb sports and recreational facilities and family entertainment which have helped make it one of Britain's premier coastal resorts.

You are of course right in the heart of Robert Burn's country, Scotland's national poet. Everywhere you travel in south Ayrshire you are walking in his footsteps. Visit the Burn's National Heritage Park. Here you will find Burn's Cottage and Museum. Restoration work and the introduction of a short audio visual presentation heightens the senses and gives a representation of what the cottage would have been like in the time of Burns.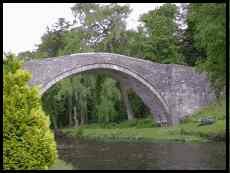 A short walk from the cottage brings you to The Tam O'Shanter Experience. This new visitor centre has two audio visual theatres, one giving an introduction to the bard and the other tells the story of Tam O' Shanter, one of Burns' best known tales.

Outside the more northerly Ayrshire town of Largs you can stand on a hilltop and cast your eyes over waters once infested by Viking warships. In the battle of Largs in 1263 local forces repelled a determined Viking force. Vikingar ! a multi media exhibition, which can be found in the town, brings Viking history to life with the use of sight, sound and smell.

The island of Arran is positioned just off the Ayrshire coast and for decades has been a favourite holiday destination for locals and visitors alike. The island is only a 55-minute ferry ride away from the mainland town of Ardrossan and is a unique and inspiring location. On landing at the main ferry port of Brodick it takes only a few minutes to appreciate the calm and quiet that permeates this wonderful sanctuary.

The island boasts no fewer that seven golf courses. There are also superb facilities for mountain climbing, pony trekking, cycling or if you simply want to relax the island's unique atmosphere allows you to do just that.

Click on any of the categories below to find detailed local information:

                 ATTRACTIONS       GOLF         WINING & DINING         






Accommodations

Visit the
Regions
Information
This section will contain latest additions to the web site plus news of special offers including travel, food and drink.