ACCOMMODATION

There was a time when booking accommodation in Scotland was a bit of a lottery. Town and city centres had a good enough supply of reasonably priced, well appointed rooms in a variety of establishments. It was when the visitor moved out into the more remote areas that choice became more limited and the standards less reliable.

In the Scotland of today this is far from the truth due to a number of developments. Firstly the major hotel chains, recogn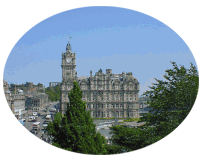 ising the growth in visitor numbers have undertaken a fairly extensive programme of opening high quality, low budget hotels. Another element that encouraged the developers was the fact that Scots themselves were taking second holidays and were waking up to the fact that there was a growing number of attractions within their own country that they wished to explore.

Smaller hotels, given the increase in tourism expenditure, have had the confidence to invest in improving their facilities and services and have become more aware of what the modern day traveller expects in the way of comfort.

A great way to participate more closely in day to day Scottish life is to take up the bed & breakfast option, where the visitors stay as paying guests within a Scottish home. This is not as daunting a prospect as you may initially think. Thousands of holiday makers every year take this option and as a result get closer to the real Scotland over a few nights than the hotel dweller will in a month.

This B&B option is ideal for the holidaymaker who is actually touring and wishes to see and experience as much of the country as possible during their stay. The continuing improvement, both in the number of and the quality of service offered by, local tourist information centres have made life considerably easier for the touring visitor.

For a small booking fee they will arrange accommodation within their own area in establishments that are known to them and they can recommend with confidence. They also offer a booking ahead facility which means you can spent the day site-seeing not having to worry about where you are going to spend the night

So whether you wish to stay in the five star surroundings of one of Scotland's many luxury establishments, the more informal atmosphere of one of the country's extremely comfortable small hotels or the more homely surroundings of Mrs MacGlumphers's B&B there is one thing for sure. You will be made welcome big style, and will hate to leave.