FAMOUS SCOTS: Sir Walter Scott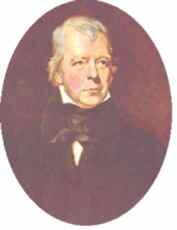 It is an accepted fact that Scots, as a nation, read more newspapers and books than any other U.K. country. The Scottish education system in acknowledged as being one of the finest with places at its universities being sought after by students from all over the world.

Scotland is a country rich in literature with its authors and their works enjoying worldwide recognition. At the forefront is Sir Walter Scott. His first novel was Ivanhoe, which he penned in 1791. Between 1815 and 1828 his output was prolific. During this period he wrote no fewer that twenty one novels. These included Guy Mannering, Old Mortality, Rob Roy, Redgauntlet, and the Fair Maid of Perth.

Born in 1771 his first career was as a lawyer and from 1799 to 1832 he was the Sheriff of Serkirkshire. In the town of Selkirk it is still possible to visit the actual courthouse over which he presided.

His first venture into the world of literature was editing a book of Scottish Ballads. He then moved on to writing epic poems and by this time was also a respected biographer. In 1797, at the age of 26, he married Charlotte Carpenter and in 1812 he bought Cartley Hall farmhouse, which they developed over a number of years and renamed Abbotsford.

This beautiful house, overlooking the Tweed just outside Selkirk, is open to the public. Scott was a passionate collector of historic relics, including an impressive collection of armour and weapons, Rob Roy's gun and Montrose's sword. Over 9,000 rare books make up his library. He died at Abbotsford on the 21 September, 1832.

His writing combined ordinary people and historical events, thus mixing cultures and classes. His novels were set in his homeland and not only depicted Scott's contemporary Scotland, but for some of his writings he delved into medieval Scotland also. His novels are a mixture of romance and myth, and depict clashes of culture along with affairs of the heart.

In 1995 his novel based on the romantic figure of Rob Roy, Scotland nearest answer to Robin Hood, was produced as a film staring Liam Neeson and was met with worldwide critical acclaim.