SCOTTISH HEROES: Mary Queen Of Scots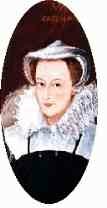 When a child is crowned Queen when only six days old it would be reasonable to assume that, if she survives, she is in for a very interesting and adventurous life. And Mary Queen of Scots certainly had that.

She was born at Linlithgow, Scotland, on December 8th, 1542 while her father lay dying at nearby Falkland. After his death Mary was crowned queen and the second in line to the throne, the Earl of Arran, James Hamilton, was appointed regent and tutor to the young queen. .

He promised her in marriage to Prince Edward of England. The Scottish Parliament revoked this promise and this led to an all out war with the English King Henry VIII. The Scots were defeated and Mary, at the tender age of six years of age, was packed off to France where she was promised in marriage to the dauphin Francois who she eventually married eleven years later in 1558. The marriage was to last only two years as the dauphin died in 1560.

So, by the time she was eighteen, her father had died, she had been crowned queen, through no fault of her own she had caused a war between Scotland and England, she had been sent to France, was married and had become a widow. Could life hold many more trials for Mary? It certainly could.

A few months later her mother Mary of Guise, who had been acting as regent in Scotland, died and Mary returned to her native land. This return was made difficult by the political and religious revolution that was going on at the time and Mary quickly found out that she may rule but she did not govern. It was at this time that Mary crossed verbal swords with chief among the reformers, John Knox, who left her in no doubt of his disapproval of female monarchs, especially Catholic ones.

In 1565 Mary married Lord Darnley and he was proclaimed King of Scots. The following year, while pregnant by Darnley she was forced to witness the brutal murder of her Italian born secretary, David Rizzio, in her private apartments at Holyroodhouse.

When the child was born Darnley refused to attend the Catholic baptism at Stirling Castle and divorce from the queen was openly discussed. Before this matter could be brought to a conclusion Darnley was killed when the house he was sleeping in was blown up by gunpowder. Although Mary's involvement was suspected it was never proved.

Another suspect was the Earl of Bothwell. He was tried and acquitted. He then kidnapped Mary who then subsequently forgave, then married him. As a result of her actions she was drawn into battle against Scottish nobles at Carberry where she was defeated, captured and imprisoned at Loch Leven.

It was shortly after this that she was obliged to abdicate in favour of her son James VI. On the same day as his coronation at Stirling Mary miscarried the twins she bore to Bothwell. After various misadventures in Scandinavia Bothwell died insane in a Danish prison in 1573. At this stage in her astonishingly eventful life Mary was still only 31 years of age.

Mary then fell foul of the Moderator of the General Assembly of the Church of Scotland. One time ally, but now bitter enemy, George Buchanan. The animosity between them reached its peak in 1571 when he circulated pamphlets accusing her of all sorts of deeds including an accusation of her involvement in Darnley's death.

Mary finally came to grief in 1586 when she was implicated in a plot against the English queen, Elizabeth. She was beheaded on 8th February, 1586 and her body lies in the chapel of her great-grandfather Henry VII at Westminster. Throughout the process of her trial and execution Mary acted with outstanding courage and dignity. It would be difficult to go through the pages of history books of any country and find a woman whose life could equal that of Mary Queen of Scots.