FAMOUS SCOTS: Rob Roy MacGregor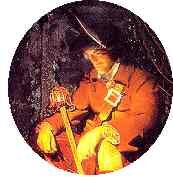 Because the area that Rob Roy MacGregor grew up and plied his "trade" in is only a 30 - 40 minute journey from the most densely populated area of Scotland his popularity throughout the lowland districts is immense. The area of Loch Lomond and the Trossachs is one of the most beautiful in the country and draws visitors from all over the world.

When standing on a heatherclad hillside overlooking a loch with absolutely no sign of modern day life in view, it is not difficult to imagine this tall tartan clad figure striding along the banks of the loch. His claymore hanging from his hip, his targe strapped to his back and the three feathers in his bonnet, signifying his position as clan War Leader, fluttering in the breeze.

Rob Roy MacGregor was born in 1671 at Glengyle, at the head of Loch Catrine. He was the third son of a clan chieftain and his great strength gave him abilities with the claymore broadsword that made his name known to many.

The name Rob Roy comes from the Gaelic Raibert Ruadh, or Red Robert because he had red hair. He dealt in land and cattle and as such seemed to prosper until he was tempted into one deal too many. To fund a large cattle transaction he persuaded the Duke of Montrose to put up £1,000. Unfortunately his chief drover made off with the money leaving Rob to face the wrath of the Duke.

The Duke eventually siezed Rob Roy's lands and property and Rob fled with his debts unpaid and was thereafter declared an outlaw. With his band of men, at one time being almost 500 strong, he set out on a campaign of cattle rustling stealing from Montrose and his cronies.

In the Jacobite uprising of 1715 he mustered the Clan Gregor and led his men in many successful raids around Loch Lomond and Callandar. He was twice captured and made his escape in flamboyant style. All this added to his image and his fame grew.

In 1725 he turned himself in and received a pardon from the King. He died in his home at Inverlochlarig Beg, Balquidder, on the 28th December, 1734 and was buried in Balquidder Kirkyard where his grave can still be viewed to this day.