TOP 40 SITES IN SCOTLAND
-click for details
---

Abbotsford
Between Galashiels and Melrose
Roxburghshire
Scottish Borders

Built in 1822 by Sir Walter Scott, one of Scotland's greatest literary figures. The building is located on the site of the Cantley Hall farmhouse where he lived until he died 10 years later. The building features turrets, battlements and corbiestepped gables, the house features a collection of historical Scott relics including Rob Roy's gun, Montrose's Sword and other weapons and armour. There is also a library in the house, which has more than 9,000 rare books on its shelves.

Price: free admission
Hours: Mar - Oct Mon - Sat 10:00 - 17:00; Sun 14:00 - 17:00
Details: 01896 752 043

---

Art Gallery & Museum
Kelvingrove
Argyle Street
Glasgow
G3 8AG

This gallery holds a fantastic array of European paintings and interesting displays on natural history, archaeology and ethnography. A must for all art lovers. There is also a gift shop and tea-room.

Details: 0141 287 2700

---

Balmoral Castle
Aberdeenshire

The Royal Family still regularly visit this Castle and have done since Prince Albert bought it in 1852.He also designed the present castle as a gift for his wife Queen Victoria. The castle was finished in 1855. The only room that visitors can see is the grand Ballroom where they can see paintings of the royal collection, royal tartans, silverware and porcelain. In the Carriage Hall there is a display of the royal carriages, wildlife and a collection of commemorative china.

Hours: Apr - May Mon - Sat 10:00 - 17:00; July & Aug 10:00 17:00
Details: 01463 715 757

---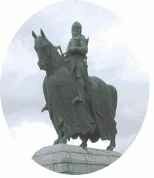 Bannockburn Heritage Centre
Glasgow Road
Stirling
FK7 0LJ

From this battlefield the Scots 'sent them homewards tae think again', when Edward II's English army was soundly defeated by King Robert the Bruce. This brought the independence for which William Wallace had also fought. The Heritage Centre Exhibition includes a large model of the Battle of Stirling Bridge, and exciting life-size figures of Wallace and Bruce. It brings to life decisive moments in Scotland's History, including the signing of the Declaration of Arbroath, which inspired Thomas Jefferson when he drew up the American Declaration of Independence. An audio-visual presentation tells the dramatic story of Bruce and of the battle, with haunting sounds and images.

Price: £2.30
Hours: 1st - 31st Mar & 1st Nov - 23rd Dec 11:00 - 15:00; 1st Apr - 31st Oct 10:00 17:30 (last audio-visual show, half an hour before closing)
Details: 01786 812 664

---

Burns National Heritage Park
Murdoch's Lone
Alloway
Ayrshire
KA7 4PQ

Come and embrace the warmth, romance and genius of Scotland's greatest literary figure, Robert Burns. Share with us the unique atmosphere of Burns Cottage, where Burns was born. The Burns Museum, a treasure of manuscripts, books, paintings and artefacts. And only a few minutes walk away from the Tam O'Shanter Experience with its audio-visual theatres. All of this is set within the splendour of The Burns National Heritage Park, Alloway, home of the famous Brig O'Doon and Burns Monument and Gardens. The Burns National Heritage Park. 

Hours: Burns Cottage & Museum, Apr - Oct 9:00 - 18:00; Nov - Mar, Mon - Sat 10:00 - 16:00; Sun 12:00 - 16:00; The Tam O'Shanter Experience, Apr - Oct 9:00 - 18:00; Nov - Mar 9:00 - 17:00
Details: 01292 443 700

---

The Burrell Collection
2060 Pollokshaws Road
Glasgow
G43 1AT

Set in the relaxing surroundings of Pollok Park is this wonderful award winning gallery of Sir William Burrell's extensive and stunning collection. This is possibly one of the best collections in Britain. There is also a restaurant for those who appreciate good food as well as good art.

Price: Admission free
Details: 0141 649 7151

---
The Big idea

The Nobel Exhibition Trust
The Harbourside
Irvine KA12 8XX
Tel: 08708 404030
www.bigidea.org.uk
The Big Idea is the World's first Inventors Centre. It is a totally unique hands-on exhibition devoted to the process of inventing.
The Big idea is a living laboratory for people who wish to think, to dream, to discover, to innovate and to invent. Most of all it is to excite and challenge the young - to unlock the quest for knowledge and understanding, at whatever level, and across a wide spectrum.
---

Culzean Castle & Country Park
Maybole
Ayrshire

Perched high on the edge of a cliff overlooking Arran and Ailsa Craig, Culzean Castle is one of the most impressive stately homes in Scotland. Set in a 582 - Acre Park, it was designed by master architect Robert Adam to replace the original 16th Century castle. The present structure was completed 1777 - 1792. The most influential architect of the time, Adam's classical embellishment with which he decorated his ceilings and fireplaces is present throughout. The Oval Staircase, one of his greatest achievements, is particularly striking. Every room in the house is palatially decorated using the finest materials. One bedroom is said to be haunted by a lady in green.

Price: Castle, Adult £6.50 Child £4.40 Family £17.00; Park only £3.50, £2.40
Hours: Castle, Apr - Oct 10:30 - 17:30; Park open all year 9:30 - sunset
Details: 01655 760 274

---

The David Livingston House Centre
165 Station Road
Blantyre
Glasgow
G72 9BT

David Livingstone was born here in 1813. At this centre you can share in his adventurous life, from his childhood in the Blantyre Mills to his explorations in the heart of Africa all of which are dramatically illustrated in this historic tenement building. The building remains virtually unchanged.

Price: Adults £2.75 Child £1.60
Hours: Mon - Sat 10:00 - 17:00; Sunday 12:30 - 17:00
Details: 01698 823 140

---
Deep Sea World
North Queensferry
Fife
KY11 1JR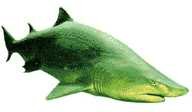 Voyage along the seabed and take a "diver's eye" view of the world beneath the waves. Deep Sea World's underwater safari is the longest in the world - a 112-metre tunnel transporting you through 1 million gallons of water. There is also Scotland's largest collection of piranhas, one of the world most deadly fish, and the UK's largest amphibian collection. This fascinating new exhibit takes you from the rain soaked forest of South America to the dry Australian deserts on an exciting interactive journey to meet a fascinating array of creatures, including the world's most poisonous frog.

Price: Adults £6.25 Child £3.95
Hours: Apr -Oct 10:00 - 18:00; Nov - Mar 11:00 - 17:00
Details: 0930 100 300
---
Discovery Point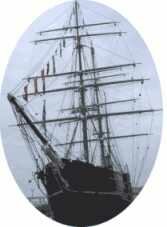 Discovery Quay
Dundee
DD1 4XA

Discovery Point is the home to Captain Scott's famous ship RRS Discovery. Discovery was one of the last wooden three masted ships to be built in Britain and the first to be constructed specifically for scientific research. Launched in 1901 it was the beginning of an adventure that would take her deep into the unknown waters of Antarctica and secure her place in the heroic age of polar exploration. Explore the actual ship Scott sailed in. See the Wardroom where he planned his epic journey, see how the ship was built, witness the launch and see her blasted free of crushing pack ice in a dramatic rescue.

Hours: Apr - Oct 10:00 - 17:00 (11:00 Sundays) Nov - Mar 10:00 - 16:00 (11:00 Sundays)
Details: 01382 201 245

---

Dunnottar Castle
One mile south of Stonehaven
Aberdeenshire

Sir William Keith, the Great Marischal of Scotland, built this castle in 1392. It sits on a cliff top overlooking the North Sea. One of the areas that visitors are able to see in the castle is the Whigs Vault Dungeons where, in 1685, 167 Covenanters died. Other areas of interest includes a tower, a gatehouse, the chapel and the priest house. The Scottish Crown Jewels were hidden here from Oliver Cromwell's Roundhead'sl. The castle was also used as a location for Zeffirelli's 'Hamlet' starring Mel Gibson.

Price: £3.00
Hours: Easter - October Mon - Sat 9:00 - Sunset
Details: 01569 762 173

---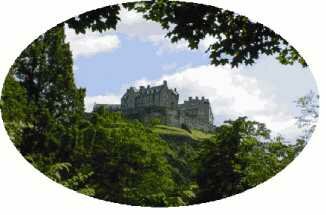 Edinburgh Castle
High Street
Edinburgh

When people think of Edinburgh they immediately think of The Castle, towering above Edinburgh atop an extinct volcano with stunning views of the New Town and the Firth of Forth. It is believed that the building dates back to the Bronze Age, but only really began to take shape in the 11th Century when Malcom III and Queen Margaret took up residence there. The Queen's private chapel, a tiny Norman Building, still stands nearly 900 years after it was built. The building was often attacked by English invaders and fell into enemy hands. The last time it was captured was in 1640 by Oliver Cromwell's Roundheads, after which it was used as a prison and later a military garrison, which it still is to this day. Displayed at the castle is the Stone of Destiny, the ancient coronation stone of Scottish Kings, which was returned to Scotland in 1997 after an absence of even centuries. In August of every year the Military Tattoo is held where there is a lively programme of music, marching and historical re-enactments. If you are around the castle at 1pm you may think that the castle is, once again under siege, but don't worry, it is just the world famous 'one o'clock gun' in which is fired at that hour every day.

Price: Adult £6.50 Child £2.00
Hours: Apr - Sep 9:30 - 18:00; Oct - Mar 9:30 - 17:00
Details: 0131 668 8800

---
Edinburgh Tattoo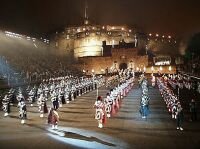 The Tattoo Office,
32 Market Street,
Edinburgh,
Scotland EH1 1QB.
Telephone: 0131-225 1188
Fax: 0131-225 8627
www.edintattoo.co.uk
Today, with its unique blend of music, ceremony, entertainment, and theatre set against the amazing backdrop of Edinburgh castle, it is without question one of the world's greatest shows. Each year, 200,000 people see the Tattoo. They come from every corner of the globe (around 35 per cent of the audience is from overseas), and they are joined each year by around 100 million worldwide who enjoy it on television
---

Edingburgh Zoo
Corstorphine Road
Murrayfield
Edinburgh
www.edinburghzoo.org.uk
Established in 1913 by the Royal Zoological Society of Scotland and home to more than 1,000 animals from all over the world this is one of the finest wildlife parks in the world. The park is situated on a hillside and houses the largest colony of penguin's in Europe, one event that must not be missed is the afternoon penguin parade during which the penguins go for a walk around the zoo.

Price: Adult £6.80 Child £3.80 Family £19:00
Hours: Apr - Sep 9:00 - 18:00; Oct - Mar 9:00 - 17:00 Nov - Feb 9:00 - 16:30
Details: 0131 334 9171

---

Eilean Donan Castle
Dornie
Highlands

Eilean Donan Castle is possibly one of the most photographed castles in Scotland. Built in 1220 by Alexander II as a defence against the Vikings, the castle was to later become the stronghold of the Mackenzies of Kintail and the Earls of Seaforth. Located on the banks of Loch Duich in Wester Ross it is nearly impossible to find words to describe its beauty.

Price: Adult £3.75 Child £2.75 Family £9.00
Hours: Apr - 1st Nov 10:00 - 18:00
Details: 01599 555 202

---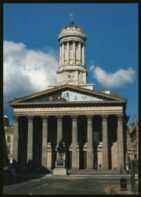 Gallery of Modern Art
Queen Street
Glasgow
G1 3AZ

If modern art is more your style then this four-floor gallery is for you, with works by artists from all over the world. There are also interactive computers and art workshops.

Price: Admission free
Details: 0141 229 1996
---
Gretna Green
Just north of the Border on the A74

When people hear the name Gretna Green their thoughts often step back in time to the history of runaway marriages. The World Famous Old Blacksmith's Shop is at the heart of this fascinating tradition. Runaway marriages began in 1753 when an Act was passed which stated that if both parties to a marriage were not at least 21 years old then consent had to be given by the parents. This Act did not apply to Scotland where it was, and still is, possible to get married at 16 years old, with or without parental consent. This led to many "elopers" fleeing England and their angry parents to get married in Scotland. Gretna Green is the first village at which they arrived. The Blacksmith's Shop, the focal point of the village, became the centre of the marriage trade.

Gretna Registrar's Office: 01467 337 635
The Old Blacksmith's Shop, Price: Adult £1.50 Child: free
Hours: Apr - June Mon - Sun 9:00 - 18:00; July - Sep 9:00 - 20:00; Oct Mar 9:00 - 17:00
Details: 01461 338 441
---
Glasgow Zoo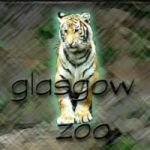 Calderpark
Uddingston
Glasgow G71 7RZ
Tel: 0141 771 1185
www.glasgowzoopark.org.uk
Park Closing Times :
· January 4.00 pm · February 4.00 pm
·March 5.00 pm · April 5.00 pm · May 5.00 pm
· June 6.00 pm · July 6.00 pm · August 6.00 pm · September 5.00 pm · October 5.00 pm · November 4.00 pm · December 4.00 pm
Calderpark has been a good choice as a site for Glasgow's zoo in many respects. It is an ideal place, because here at Calderpark with its sloping hills, the trees and the river, park-life and zoo-life complement each other so well. Large zoo park with a wide variety of species.
Adult Single entrance = £4.60 (during winter the price will be reduced to £3.20) Senior Citizens = £3.20 (£2.10 during winter) Child Single entrance = £2.70 (£2.10 during winter)
---

Highland Mysteryworld
Near Glencoe
Fort William
Highlands
PA39 4HL

Explore the Highlands through new eyes as you journey back in time to the world of bogles, kelpies and fachns. Enter the mysterious stone circle to meet visitors from long ago who will tell you amazing tales of Scotland's legendary past. Experience the riddles of the serpents' cavern where the Blue Man of the Minch and other legends come alive just for you. Re-awaken your awareness of ancient herbal lore within the mossy realm of the Clootie Well.

Price: Adult £4.95 Child £3.50 Family £14.00
Hours: Easter - Oct 10:00 - 14:30
Details: 01855 811 660

---

Hopetoun House
South Queensferry
Edinburgh

This lavish building was designed by Sir William Bruce and William Adam and was built in 1699. It housed the Earls of Hopetoun. Set in 100 acres of parkland on the edge of the Firth of Forth it features beautiful examples of its age. Visitors can view the original furniture in the yellow drawing room and the dining table on which members of the Royal family have dined.

Price: House & Grounds, Adult £5.00 Child £2.70; Grounds only, Adult £2.80 Child £1.70
Hours: Apr 2nd - Sep 26th then every weekend throughout October 10:00 - 17:30 (last entry 16:30)
Details: 0131 331 2451

---
The Hunterian Museum and Art Gallery
University of Glasgow
GLASGOW
G12 8QQ
The Hunterian Museum and Art Gallery (University of Glasgow), Scotland's first public museum (1807), is founded on Dr William Hunter's (1718-83) collections. Dr Hunter acquired fame and fortune as a physician and medical teacher in London. Displays of Romans in Scotland, coins, dinosaurs, the Mackintosh House, insects and other animals, a new temporary exhibition gallery and state-of-the-art conference venue and much more mean that there is something of interest for everyone. In separate buildings off University Avenue in Glasgow's west-end. Open Mondays to Saturdays 9.30 to 5.00 (The Mackintosh House closes daily 12.30 to 1.30). closed Sun and public holidays; (0141) 330 4221; admission free.
---

Linlithgow Palace
West Lothian
Fife

Mary Queen of Scots was born in this 15th Century palace, as was her father James V, Bonnie Prince Charlie visited in 1745 and Oliver Cromwell and his troops stayed here in the 1650s. The most impressive sites amongst the remains are the Great Hall, a chapel and a lovely 16th Century fountain.

Price: Adult £2.50 Child £1.00
Hours: Apr - Sep; Mon - Sat, 9:00 - 18:30, Sun 14:00 - 18:30; Oct - Mar; Mon - Sat, 9:30 - 18:30, Sun 14:00 - 16:30
Details: 01506 842 896

---

Loch Garten Osprey Centre
Nethybridge
Grampian

Volunteers of the Royal Society for the Protection of Birds run this nature centre which for many years now has been the home to breeding pairs of ospreys. They migrate to Africa every winter and return in the spring. There are guards permanently on duty to protect the nest as in the past robbers have tried to steal the birds eggs or cut down the tree they nest in. There is a close circuit television link so that visitors can see right into the nest and observe the birds without disturbing them.

Price: £2.00
Hours: Apr - Aug 10:00 - 18:00
Details: 01479 831 694

---

Loch Ness
Drumnadrochit
Highlands

A few miles west of Inverness the Great Glen opens up to reveal the dark, mysterious expanse of Loch Ness - one of the world's most famous attractions. At over 750 feet deep, which is deeper than the North Sea, and 23 miles long, a monster could live in there unnoticed, couldn't it? For more information on The Monster, visit the Loch Ness Monster Exhibition Center, home of the authoritative exhibition on the mysterious phenomenon of Loch Ness. There is a 40-minute audio-visual display that tells you about the history of the monster and all the main sightings of it, you never know maybe you will be the next one to see the great beast and be added to the list. For more details call 01456 450 573. Do not despair if you don't get to see the monster as the scenery surrounding the Loch should make up for it as it is so peaceful and you will immediately fall in love with it.

---

The MacBeth Experience
Bankfoot
Perth
PH1 4EB

Witchcraft, tyranny, murder… hardly the stuff of heroes but all key elements in Macbeth's story. Well, in the story told by William Shakespeare. Others would have you believe Macbeth was a generous and liberal Scottish King overseeing a nation that wanted for little. But is the story true? Here you will see the fascinating multi-media production will tell you about the real Macbeth, a man elected king almost 1,000 years ago, who ruled Scotland when her lands stretched as far south as Lancashire. Watch history come to life, and watch out for the witches…

Price: Adult £2.00 Child £1.00
Hours: Easter - Sep 9:00 - 20:00; Oct - Mar 9:00 - 19:00
Details: 01738 787 696

---
The Magnum
Harbourside
Irvine KA12 8PP
Tel: 01294 278381
www.themagnum.co.uk
One of Scotland's largest purpose built leisure facilities, supported by North Ayrshire Council and Operated by North Ayrshire Leisure Limited, offers you the chance to experience a day out like no other. Situated on the South West Coast of Scotland in the heart of Irvine's harbourside, the superb facilities are complemented by the picturesque Beach Park setting. With the Big Idea, Scottish Maritime Museum and Irvine's bustling retail and shopping complex within easy reach, there's something for everyone!!

---

Mary Queen of Scots House
Jedburgh
Scottish Borders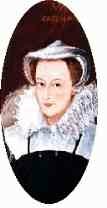 After her famous ride to visit her future husband, the Earl of Bothwell, at Hermitage Castle in 1566, Mary Queen of Scots got a fever and stayed in this house to recover. Since then the building has been turned into a visitor's centre which tells the tragic story of her life in a series of three rooms. It features beautiful tapestries, oil paintings, furniture, coats of arms, armour and some of the Queens possessions all dating back to the mid 1600s.

Price: Adult £2.00 Child £1.00
Hours: Easter - Oct Mon - Sat 10:00 - 16:45, Sun 10:00 - 16:30
Details: 01835 863 331

---

Melrose Abbey
Melrose
The Borders

At one point this was probably one of the richest Abbey in Scotland. Built in the 12th Century this Abbey has endured an attack by an invading English army in 1385 and was rebuilt in the 15th Century by Robert the Bruce whose heart was recently reburied in the grounds after it was discovered in its original lead container. In the 19th Century Sir Walter Scott repaired some more of the Abbey including many on the gargoyles which have among them a pig playing the bagpipes.

Price: Adult £2.80 Child £1.00
Hours: Apr - Sep Mon - Sat 9:30 - 18:30, Sun 14:00 - 18:30; Oct - Mar Mon - Sat 9:30 - 16:30, Sun 14:00 - 16:30
Details: 01896 822 562

---

Millport
Isle of Cumbrae
Ferries leave Largs
Ayrshire

Millport has a unique character and charm and is a firm favourite with walkers, cyclists and sailing enthusiasts. Explore the sandy beaches, Britain's smallest cathedral and one of Scotland's most popular golf courses. You can hire bikes and cycle round the island, look out for the rock face that looks like an Indian half way round the island.

Price: £2.80 per person on the ferry, £2.00 for the bus into the centre of the island.
Details: 01475 530 753

---

Museum of Childhood
42 High Street,
Edinburgh EH1

For children themselves this museum allows them to see the types of toys that mum and dad used to play with. For mum and dad it is journey into the past allowing them to revisit their own childhood. It is described as the noisiest museum in the world. It was opened in 1955 and was the first museum in the world to specialise in the history of childhood. Listen to the children chanting multiplication tables in a 1930's schoolroom. Watch the street games of Edinburgh children of the 1950's and find out how children have been brought up, dressed and educated in decades gone by.

Price: Free
Hours: 10:00 - 17:00 Mon-Sat
Details: 0131 529 4142

---

Museum of Scotland
Chambers Street,
Edinburgh EH1
Tel: (+44) 131 225 7534(voice)
(+44) 131 247 4027 (Minicom)
Fax: (+44) 131 220 4819
www.nms.ac.uk
In this unique and purpose built new museum the visitor will be exposed to the remarkable story of a remarkable country. They will discover a land steeped in fascinating cultures and terrible wars, passionate religion and scientific invention. A land of creative struggle - and occasionally of glorious failure.
The National Museums of Scotland show Scotland to the World and the World to Scotland through extensive collections built up over more than two centuries. Displays of the collections can be seen at six sites, and research collections which contribute to our knowledge of the human and natural world are available for study.
Open: Mon to Sat 10am-5pm, Tuesday 10am-8pm, Sun 12-5pm

Admission Adults £3, concessions £1.50 (students, senior citizens, unwaged), children free (up to 18 years), Includes entry to Royal Museum.
Museum Pass Single Adult £8.00 Concession £5.00 Family £15.00 (admits to all NMS museums)
Admission to the Museum of Scotland & the Royal Museum is free on Tuesdays from 4.30pm to 8pm.
---

The Museum of Transport
Kelvin Hall
Argyle Street
Glasgow

Dedicated to the history of transport on land, rail and sea, the museum features original vehicles from throughout the centuries including horse-drawn carriages, fire engines, railway engines and motor cars. There is also the history of the bicycle and the motorbike. Visitors can also experience a perfectly recreated underground station and an 1938 Glasgow Street.

Price: Admission free
Hours: Mon - Sat 10:00 - 17:00 (closed Tuesday); Sun 11:00 - 17:00
Details: 0141 287 2000

---

National Gallery of Scotland
The Mound,
Edinburgh EH2

The gallery features work by Raphael, Hugo van der Goes, Rubens and Poussin. The interior is beautifully decorated with a fine collection, not only of paintings, but also with sculpture and furniture. The gallery is also the home of the famous painting by Raeburn of the Rev Walker Skating on Duddingston Loch.

Price: Free
Hours: 10:00 - 17:00 Mon - Sat. 14:00 - 17:00 Sun.
Details: 0131 624 6200

---

The National Wallace Monument
Alloa Road
Stirling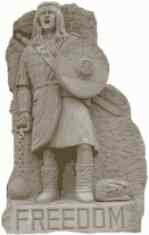 It is practically impossible to drive around Stirling and not see the Wallace Monument. The 220ft tower dominates the surrounding plain. Take the 246 steps to the top, and you will enjoy spectacular views. At the Monument you get to understand Wallace's battle tactics at Stirling Bridge and feel some of the terror that engulfed the invaders. In the battle tent a dramatised reconstruction and a talking head of William Wallace takes you through those times. You learn the background to Wallace's beliefs and the events that shaped Scotland's history. Outside the tent you are swept into the heat of battle by a vivid combination of the spoken word, powerful images and evocative music. How did Wallace, a guerrilla fighter, outwit such a powerful force? You don't just learn it, you live it.

Price: Adult £3.25 Child £2.25 Family £9.50
Hours: Jan - Feb & Nov - Dec 10:30 - 16:00; Mar - May & Oct 10:00 - 17:00; June & Sep 10:00 - 18:00; July & Aug 9:30 - 18:30
Details: 01786 472 140

---

New Lanark World Heritage Village
New Lanark Mills
Lanark
ML11 9DB

In the early years of the 17th Century, a young Welshman called Robert Owen chose the mill village of New Lanark as the site for a bold experiment. In an age when working men, women (and children) were routinely exploited in the unscrupulous pursuit of fast fortunes, Owen decided to do things differently. Decent homes, fair wages health care and proper schooling were his priorities. He proved that a happy workforce was a productive workforce - and the world took notice. The village includes a visitor centre which features a dark ride 'The Annie McLeod Experience' and working textile machinery and many other displays, there is also a millworkers' house and Robert Owen's house both of which look exactly the way they would have looked when Owen ran the village.

Price: Historic New Lanark, Adult £3.75 Child £2.50 Family £9.95
The Visitor Centre, free admission
Millworkers' House, £1.00
Robert Owen's House £1.00
Village Store £1.00
Hours: 11:00 - 17:00
Details: 01555 661 345
---

Our Dynamic Earth


Holyrood Road
Edinburgh EH8 8AS
www.dynamicearth.co.uk
The primary objective of the Dynamic Earth exhibition is to present a holistic view of the planet Earth. It demonstrates the natural forces, whose interaction through time, have created and shaped the Earth as we know it today. It explores the environments which have resulted from these processes takes the visitor from the depths of the oceans to the polar regions and on a journey from there to the tropics.

The Dynamic Earth impinges on many areas of science; geography, geology, astronomy, biology, oceanography, and many more. It focuses on the interaction between these disciplines, making the exhibition unique but highlighting new challenges in presentation and content. The exhibition will also have an external dimension. In Dynamic Earth the subject matter is extensive and the exhibition will raise many questions in the mind of the visitor.
Tel: 0131 550 7800
Fax: 0131 550 7801
E-mail: [email protected]

---

The Palace of Holyroodhouse
Holyrood Road,
Edinburgh EH8

This is Edinburgh's Buckingham Palace and is in frequent use by the Royal Family during their visits to Scotland. When they are in residence the palace is closed to the public therefore it is best to check prior to visiting. The palace has very strong historical links with Mary Queen of Scots whose private apartments have been maintained in the style of the period of her occupancy. It was in one of these rooms that one of Scotland's most infamous murders took place when four Scottish noblemen killed Mary's secretary David Rizzio, as Mary looked on.

Price: Adults £5.30 Child £2.60 Family £13.00
Hours: Apr-Oct 09:30 - 17:15, Nov - March 09:30- 15-45.
Details: 0131 556 1096

---

The People's Palace
Glasgow Green
Glasgow
G40 1AT

The People's Palace was built as a cultural centre on Glasgow Green beside the River Clyde at the end of last Century. It charts the story and history of Glasgow, as seen through the generations who have lived there from 1175 to the present day. You can learn the Glaswegian 'patter' and see the unusual but wonderful artefact's that some more traditional museums would not normally display.

Price: Free admission
Hours: Mon - Sat 10:00 - 17:00; Sun 11:00 - 17:00
Tel: 0141 554 0223

---

The Rob Roy Story
Ancaster Square
Callender
The Trossachs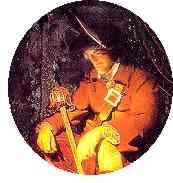 For nearly 300 years the story of Rob Roy MacGregor has inspired authors and filmmakers. Clan leader, cattle trader, cattle thief, blackmailer - the name of Rob Roy has provokes powerful emotions. Here, at the gateway to his beautiful Trossachs homelands, you'll learn of the daring exploits that made him a hero to his own people - and Scotland's most notorious outlaw. You can meet the real Rob Roy huddled over a fire in the dead of night, above you stars twinkle in a cloudless sky as you eavesdrop on a conversation he is having with one of his clansmen. With bitter conviction he tells how his feud with the Duke of Montrose led to his being outlawed; how his lands were seized, his houses plundered - and how he is now paying back his enemies.

Price: Adult £2.75 Child £1.25 Family £6.00
Hours: Mar - May & Oct - Dec 10:00 - 17:00; June 9:30 - 18:00; July - August 9:00 - 22:00; Sep 10:00 - 18:00; Jan - Feb 11:00 - 16:30 (weekends only)
Details: 01877 330 342

---

Royal Yacht Britannia
Ocean Drive,
Leith,
Edinburgh EH6

Throughout its forty years service the Royal Yacht Britannia sailed over one million miles carrying the royal family all over the world. Over the years she was the setting for state visits, royal honeymoons, family holidays and official receptions. Amongst the many intriguing areas to view are the bridge, the Queen's sitting room, the admiral's cabin and quarters the dining room and the sun lounge. All in all a wonderful glimpse at the royal life style.

Price: £6
Hours: 10:30 - 16:30 daily with extended hours in the summer.
Details: 0131 555 5566

---
The Royal Botanic Gardens
Edinburgh Inverleith Row,
Edinburgh
Tel: 0131 552 7171
The Royal Botanic Garden Edinburgh was founded in the 17th century on an area the size of a tennis court. It now extends to 31 hectares (at Inverleith in Edinburgh), incorporates Specialist Gardens at three very different locations in Scotland (Younger, Logan and Dawyck; 50ha, 12ha and 25ha), and is one of the world's finest botanic gardens.
The Garden is first and foremost a scientific institution, dedicated to the pursuit of research of the highest quality on the systematics and biology of plants. This research, which underpins other plant science and conservation, is made possible by the Garden's internationally important collections of living and preserved plants, by its library, one of the largest botanical libraries in Britain, and by its modern, well-equipped laboratories.
---

Scotch Whisky Heritage Centre
354 Castlehill,
The Royal Mile,
Edinburgh EH1

This award-winning centre is one of Scotland's most prestigious visitor attractions, which tells the story of the countries most famous products. The entire tour can be conducted in eight different languages. One of the biggest features of the centre is an electrically driven barrel-car ride which takes the visitor on a ride through 300 years of Scotch Whisky history, with life like figures, sounds and aromas. The ride finishes with a free dram for the adults.

Price: £4.95 adult, £3.50 concessions, £2.50 under - 18's, £12 family ticket.
Hours: 10:00-17:30 daily. Extended hours during the summer season.
Details: 0131 220 0441

---

Scotland's Lighthouse Museum
Kinnaird Head
Fraserburgh
Aberdeenshire

For over 200 years the Northern Lighthouse Board has lit the coast of Scotland. Discover for yourself the skill, the dedication, the science and the romance of Scotland's Lighthouses. Your visit to this purpose built museum with all its incredible displays including a multi screen projector show and touch screen technology, also includes a unique guided tour right to the very top of Kinnaird Head Lighthouse. Just 75 yards and 72 steps from the museum. Kinnaird Head was the very first lighthouse built by the Northern Lighthouse Board in 1787. Now it stands as a fitting monument to Scotland's lighthouse service.

Price: Free admission
Hours: 1st Apr - End of Oct Mon - Sat 10:00 - 18:00, Sun 12:30 - 18:00; 1st Nov - End of Mar Mon - Sat 10:00 - 16:00, Sun 12:30 - 16:00
Details: 01346 511 022

---

Scottish Mining Museum
Lady Victoria Colliery,
Newtongrange,
Midlothian EH22

This museum allows the visitor to experience the life and times of a coal miner - throughout history to the present day. The Scottish Mining Museum is a wonderful day out for all the family. The guides are former miners and they will give you a true insight into life "down the pit". A typical day in the life of a nineteenth century miner is portrayed in a series of award winning scenes with life size figures and all the sights, sounds and smells of a miners home, the colliery and the mining village of Newtongrange. The museum's audio-visual show gives a moving insight into the terrible conditions endured by men, women and children working underground.

Price: £4 adults, children / concessions £2.20, family pass (2 adults, 2 children) £10 additional children £1
Hours: 10:00 - 17:00 Mon to Sun.
Details: 0131 663 7519

---

Stirling Castle
Stirling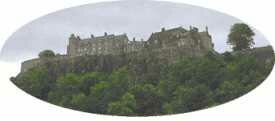 The mighty Royal Castle of Stirling towers above some of the most important battlefields in Scotland's history; including William Wallace's victory over the English at Stirling Bridge in 1297 and Robert the Bruce's defeat of the same foe at Bannockburn in 1314. Time and time again Stirling Castle was besieged, relieved and then besieged once again during the Scottish struggle against domination by the English. Stirling Castle is closely bound with the life of the ill-fated Mary Queen of Scots. She spent her childhood in the castle. Mary's coronation took place in the Chapel Royal in 1543 and it was also where she narrowly escaped death in a fire in 1561.

Price: Adult £5.00 Child £1.50
Hours: Apr - Sep 9:30 - 18:00; Oct - Mar 9:30 - 17:00
Details: 01786 450 000

---

The Tenement House
145 Buccleuch Street
Glasgow
G3 6QN

A typical Victorian tenement flat of 1892, a fascinating time capsule of the first half of the 20th century. It was the home of an ordinary shorthand typist, who lived up this 'close' for more than 50 years. The flat contains many if the original fittings and family items. There is also an exhibition on the ground floor about tenement life.

Hours: 1st Mar to 31st Oct, 14:00 - 17:00 daily (last admission 16:30)
Details: 0141 333 0183



---
Vikingar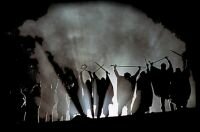 Greenock Road,
Largs,
Ayrshire,
KA30 8QL
Tel : 01475 689777
www.vikingar.co.uk
Meet the Gods and Valkyries in Valhalla, come face to face with ODIN, the Viking God of War, and walk with him into the Viking world of 700 years ago.
You will be taken on a multi-media journey through time from the earliest Viking raids to their defeat at the Battle of Largs and if you're looking for excitement, realism, atmosphere and action - the Vikingar! Experience has it all!
The one hour, four section tour in the capable hands of one of our many 'real' Viking Storytellers takes you on a journey which relives life in an everyday Viking Homestead, unravels the myths and mysteries of Valhalla in the Hall of the Gods, relates the saga of the Vikings in Scotland in a five screen, action packed film presentation and imparts a wealth of interesting Viking facts in the Hall of Knowledge.