TOP 20 ATTRACTIONS IN EDINBURGH & LOTHIANS
-click link for details
---

Clanranald Trust for Scotland
189 Canongate,
Royal mile,
Edinburgh EH8 8BN
Details:0131 558 9191
email:
---

Linlithgow Canal Centre
Canal Basin,
Manse Road,
Linlithgow
Details: 01506 671 215
email:
---
Brass Rubbing Centre
Trinity Apse,
Chambers Close,
The Royal Mile
Edinburgh EH1

This centre occupies Trinity Apse, the only surviving fragment of the Gothic Trinity College Church, founded about 1460 by Queen Mary of Gueldres, wife of James 11 of Scotland. In the centre you will find a fascinating collection of Pictish stones, rare Scottish brasses and medieval church brasses. No experience is needed to make a rubbing, and staff are always on hand to help.

Price: admission free
Hours: 10:00 - 17.00 Mon-Sat
Details: 0131 556 4364

---

Castle Museums
Edinburgh Castle.
Castlehill,
Edinburgh EH1

Records show that work first started on a castle on this site as far back as the 12th century. Allow for half a day to give the castle justice. View Scotland's Crown Jewels and visit Scottish National War Memorial. There are various regimental museums contained within the castle displaying uniforms, medals and weapons. There are taped audio guides in six different languages to make sure that you do not miss any of the exciting history of this, one of Scotland's leading tourist attractions

Price: Adults £6.00 Child £1.50
Hours: 09:30-18:00 daily, Apr-Sept. 09:30-17:00 daily Oct-March.
Details 0131 668 8800, Ticket office 0131 225 1012.

---

Edinburgh Castle
High Street
Edinburgh

When people think of Edinburgh they immediately think of The Castle, towering above Edinburgh atop an extinct volcano with stunning views of the New Town and the Firth of Forth. It is believed that the building dates back to the Bronze Age, but only really began to take shape in the 11th Century when Malcom III and Queen Margaret took up residence there. The Queen's private chapel, a tiny Norman Building, still stands nearly 900 years after it was built. The building was often attacked by English invaders and fell into enemy hands. The last time it was captured was in 1640 by Oliver Cromwell's Roundheads, after which it was used as a prison and later a military garrison, which it still is to this day. Displayed at the castle is the Stone of Destiny, the ancient coronation stone of Scottish Kings, which was returned to Scotland in 1997 after an absence of seven centuries. In August of every year the Military Tattoo is held where there is a lively programme of music, marching and historical re-enactments. If you are around the castle at 1pm you may think that the castle is, once again under siege, but don't worry, it is just the world famous 'one o'clock gun' which is fired every day at precisely that hour.

Price: Adult £6.50 Child £2.00
Hours: Apr - Sep 9:30 - 18:00; Oct - Mar 9:30 - 17:00
Details: 0131 668 8800

---

Edinburgh Zoo
Corstorphine Road
Murrayfield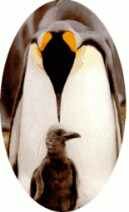 Established in 1913 by the Royal Zoological Society of Scotland and home to more than 1,000 animals from all over the world this is one of the finest wildlife parks in the world. The park is featured on a hillside and houses the largest colony of penguin's in Europe, one event that must not be missed is the penguin parade in which the penguins go for a walk around the zoo every afternoon.

Price: Adult £6.80 Child £3.80 Family £19:00
Hours: Apr - Sep 9:00 - 18:00; Oct - Mar 9:00 - 17:00 Nov - Feb 9:00 - 16:30
Details: 0131 334 9171

---

The Forth Bridges
Connecting North & South Queensferry



This monument to Victorian engineering is as recognisable throughout the world as the Eiffel Tower and the Empire State Building. It is still operational to this day, over a century after its opening. It took seven years to build and was inspired by the bamboo bridges in Asia. You can take your car across the Forth Road Bridge, which was built in 1964 replacing car ferries, but be sure to keep your eyes on the road as it is hard to take them of the Forth Rail Bridge. For a good view of both bridges there is a viewing platform in South Queensferry.On the other side of the river, in North Queensferry, there is a museum which tells the story about the building of the bridges.

Price: 80p northbound
Hours: 24 hours daily

---

Hopetoun House
South Queensferry

This lavish building was designed by Sir William Bruce and William Adam and was built in 1699. It housed the Earls of Hopetoun. Set in 100 acres of parkland on the edge of the Firth of Forth it features beautiful examples of its age. Visitors can view the original furniture in the yellow drawing room and the dining table on which members of the Royal family once dined.

Price: House & Grounds, Adult £5.00 Child £2.70; Grounds only, Adult £2.80 Child £1.70
Hours: Apr 2nd - Sep 26th then every weekend throughout October 10:00 - 17:30 (last entry 16:30)
Details: 0131 331 2451

---

John Knox House Museum
43 High Street,
Edinburgh EH1

Built in 1450, this is one of Edinburgh's oldest houses. The religious reformer lived here until his death in 1572. In its time it was also the home of James Mossman, goldsmith to Mary Queen of Scots. See Knox's library, the goldsmith's workroom and listen to Knox's famous audience with Mary.

Price: Adult £1.95 Child 75p
Hours: 10:00 - 16:30 Mon-Sat
Details: 0131 556 9578

---

Linlithgow Palace
West Lothian

Mary Queen of Scots was born in this 15th Century palace, as was her father James V, Bonnie Prince Charlie visited in 1745 and Oliver Cromwell and his troops stayed here in the 1650s. The most impressive sites amongst the remains are the Great Hall, a chapel and a lovely 16th Century fountain.

Price: Adult £2.50 Child £1.00
Hours: Apr - Sep; Mon - Sat, 9:00 - 18:30, Sun 14:00 - 18:30; Oct - Mar; Mon - Sat, 9:30 - 18:30, Sun 14:00 - 16:30
Details: 01506 842 896

---

Museum of Childhood
42 High Street,
Edinburgh EH1

For children themselves this museum allows them to see the types of toys that mum and dad used to play with. For mum and dad it is journey into the past allowing them to revisit their own childhood. It is described as the noisiest museum in the world. It was opened in 1955 and was the first museum in the world to specialise in the history of childhood. Listen to the children chanting multiplication tables in a 1930's schoolroom. Watch the street games of Edinburgh children of the 1950's and find out how children have been brought up, dressed and educated in decades gone by.

Price: Free
Hours: 10:00 - 17:00 Mon-Sat
Details: 0131 529 4142

---

Museum of Flight
East Fortune Airfield,
East Lothian EH39

Have a great day out and discover the story of man's determination to take to the skies. Two massive hangers, part of a historic World War 11 airfield, are packed with exhibits - aeroplanes, rockets, models and memorabilia.

Price: Adult £3.00 Children free
Hours: 10:30 - 17:00 daily
Details: 01620 880308

---

Museum of Scotland
Chambers Street,
Edinburgh EH1

In this unique and purpose built new museum the visitor will be exposed to the remarkable story of a remarkable country. They will discover a land steeped in fascinating cultures and terrible wars, passionate religion and scientific invention. A land of creative struggle - and occasionally of glorious failure.

Price: Adult £3.00 Child Free
Hours: 10:00 - 17:00 Mon - Sat. 12 noon - 17:00 Sun.

---

National Gallery of Modern Art
Belford Road,
Edinburgh EH4

This is an outstanding setting in which to view the works of Bacon, Magritte, Picasso, Helen Chadwick, Matisse and Pollock. The grounds of this magnificent nineteenth century neo classical building are liberally scattered with sculptures by Paolozzi, Henry Moore and Dan Graham.

Price: Free
Hours: 10:00 - 17:00 Mon - Sat. 14:00 - 17:00 Sun.
Details: 0131 624 6200

---

National Gallery of Scotland
The Mound,
Edinburgh EH2

The gallery features work by Raphael, Hugo van der Goes, Rubens and Poussin. The interior is beautifully decorated with a fine collection, not only of paintings, but also with sculpture and furniture. The gallery is also the home of the famous painting by Raeburn of the Rev Walker Skating on Duddingston Loch.

Price: Free
Hours: 10:00 - 17:00 Mon - Sat. 14:00 - 17:00 Sun.
Details: 0131 624 6200

---

The Palace of Holyroodhouse
Holyrood Road,
Edinburgh EH8

This is Edinburgh's Buckingham Palace and is in frequent use by the Royal Family during their visits to Scotland. When they are in residence the palace is closed to the public therefore it is best to check prior to visiting. The palace has very strong historical links with Mary Queen of Scots whose private apartments have been maintained in the style of the period of her occupancy. It was in one of these rooms that one of Scotland's most infamous murders took place when four Scottish noblemen killed Mary's secretary David Rizzio, as Mary looked on.

Price: Adults £5.30 Child £2.60 Family £13.00
Hours: Apr-Oct 09:30 - 17:15, Nov - March 09:30- 15-45.
Details: 0131 556 1096

---

Royal Botanic Gardens
20 Inverleith Row
Edinburgh

Established in 1670 and was the size of a tennis court, now it is over 70 acres, and has a beautiful glass house, which is the home to Britain's tallest palm house and rare plants from around the world. There is an amazing rock garden and a Pringle Chinese Collection.

Price: free admission
Hours: Nov - Jan 9:30 - 17:00; Feb - Oct 9:30 - 18:00, Mar - Sep 9:30 - 19:00, July & Aug 9:00 - 20:00
Details: 0131 552 7171

---

The Royal Observatory
Blackford Hill,
Edinburgh EH9

Although this is not a working observatory it is still well worth a visit. The exhibitions in the visitor's centre are of great interest, even to people with little interest in astrology. From the observatory the visitor can enjoy panoramic views of Edinburgh and Arthur's Seat and explore the latest CD-ROMs about space and astronomy. There are also hands-on exhibits.

Price: £2.50 adults, £1.50 concessions and children, £1 disabled
Hours: 10:00 - 17:00 Mon - Sat, noon - 17:00 Sun.
Details: 0131 668 8405

---

Royal Yacht Britannia
Ocean Drive,
Leith,
Edinburgh EH6

Throughout its forty years service the Royal Yacht Britannia sailed over one million miles carrying the royal family all over the world. Over the years she was the setting for state visits, royal honeymoons, family holidays and official receptions.

Amongst the many intriguing areas to view are the bridge, the Queen's sitting room, the admiral's cabin and quarters the dining room and the sun lounge. All in all a wonderful glimpse at the royal life style.

Price: £6
Hours: 10:30 - 16:30 daily with extended hours in the summer.
Details: 0131 555 5566

---

Scottish Mining Museum
Lady Victoria Colliery,
Newtongrange,
Midlothian EH22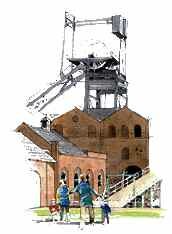 This museum allows the visitor to experience the life and times of a coal miner - through history to the present day. The Scottish Mining Museum is a wonderful day out for all the family. The guides are former miners and they will give you a true insight into life "down the pit". A typical day in the life of a nineteenth century miner is portrayed in a series of award winning scenes with life size figures and all the sights, sounds and smells of a miners home, the colliery and the mining village of Newtongrange. The museum's audio-visual show gives a moving insight into the terrible conditions endured by men, women and children working underground.

Price: £4 adults, children / concessions £2.20, family pass (2 adults, 2 children) £10 additional children £1
Hours: 10:00 - 17:00 Mon to Sun.
Details: 0131 663 7519

---

Scottish Tartans Museum
The Scotch House,
39/41 Princes Street,
Edinburgh

Learn the facts, explore the history, Discover your tartan and immerse yourself in a rich Celtic history. Discover a world of tartan as you journey through the museums "maze". Learn the facts from showcases and detailed accounts of historic Scotsmen and women, from the development of the kilt to the present day. Find your clan and purchase a souvenir history print out of your own tartan prepared by the Tartans Society. 700 tartans on display. Audio Guided Facility in a selection of languages

Price: admission charged goes towards the conservation of the artefacts & enlargement of the collection.
Hours: 09:00 - 17:30 Mon - Sat. 09:00 - 18:00 Thurs.
Details: 0131 556 1252

---

Scotch Whisky Heritage Centre
354 Castlehill,
The Royal Mile,
Edinburgh EH1

This award-winning centre is one of Scotland's most prestigious visitor attractions, which tells the story of the countries most famous products. The entire tour can be conducted in eight different languages. One of the biggest features of the centre is an electrically driven barrel-car ride which takes the visitor on a ride through 300 years of Scotch Whisky history, with life like figures, sounds and aromas. The ride finishes with a free dram for the adults.

Price: £4.95 adult, £3.50 concessions, £2.50 under - 18's, £12 family ticket.
Hours: 10:00-17:30 daily. Extended hours during the summer season.
Details: 0131 220 0441


Click on any of the categories below to find detailed local information: