Check out our latest Adventure activities. These tours are designed to make the best of the seasons. Watch this page . . .
Baby Boarder Tours
5 Day Skye Trekker Tour
Adventure Afternoons
---
Baby Boarder
Snowboarding Tours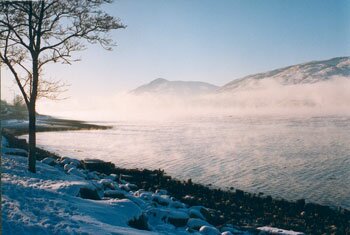 An early morning winter scene
Leaves Edinburgh every Saturday morning at 7am, and returns on Sunday night and will run as long as there is snow.
It costs £115 and you get:
Door to door transport (Max. 20 per tour)
2 days worth of equipment hire
Slope and lift pass
2 hours of instruction per day
1 night's hostel accommodation in Inverness
The trip is run in association with Monster Activities, an A.T.A. affiliated group, who supply the equipment and instruction. They meet you off the bus with your boots and boards (does not include clothing hire, so you'll have to get your thermals out).
Most of the weekends are planned for the Cairngorm slopes but we'll go with the snow.
Accommodation in Edinburgh can be arranged


We believe that this in a one of a kind tour, which utilizes another of Scotland's great facilities - pure dead gorgeous mountains with snow on them - and what's more, it's cool as . . .

Return to the top of the page
---
| | | |
| --- | --- | --- |
| | 5 day tour Skye Trekker tour. A truly exhilarating adventure trekking through the unspoilt glens of Skye, for just £165 | |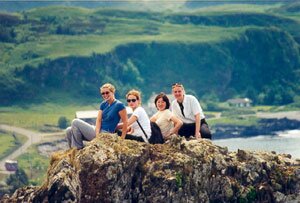 A group enjoying a break at Seil Island

Our 5 Day Skye Trek Holiday will totally immerse you in Scotland's charm and beauty - we take you on foot through one of Scotland's most ancient and magical glens, with the jagged, Black Cuillin mountains rising on the west and the massive rounded Red Cuillins to the east. After a night camping under the stars we take you over the "bad step" to Loch Coruisk, a loch which in Victorian times had almost mythical status and is set amongst the most daunting of mountain scenery. Our trekking tours run from May to September.



Day One: A full tour from Edinburgh to Skye via Loch Ness
Day Two: Trekking through Glen Sligachan
Day Three: Trekking to Loch Coruisk
Day Four: Bus tour around the north of Skye
Day Five: Back to Edinburgh via Glen Coe and Stirling







Click here to see the FULL ITINERARY for the 5 Day Skye Trekker tour




Return to the top of the page
---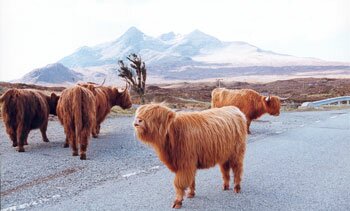 Adventure afternoons for all




Check out our latest Adventure Afternoon activities.

* Our 7 day, 5 day and Jump-on Jump-off tours offer an optional adventure afternoon. Activity prices start at £5 and include abseiling, mountain biking, wind-surfing, white water rafting and kayaking







Return to the top of the page
---
[Practical Info] [How to Book] [Home Page]

105 High Street, Edinburgh, EH1 1SG, Scotland
Tel: +44 (0) 131 558 9900
e-mail: