TRANSPORT
SPECIALIST TOURS
Muirs Travel
Tel: 01555-890200 / 880551
Fax: 01555-880771
email:

With Muirs Travel you can experience the best of Scotland, conveniently, and in comfort.
Muirs Travel are a family-run tour operator with friendly staff, who are experienced in dealing with all aspects of group and individual travel.
Saltire Tours
3 Baberton Mains Cottages
Edinburgh EH14 5A3
Tel: 0131 442 2324
Fax: 0131 453 6271
Email:

SALTIRE TOURS is one of Scotland's freshest and most innovative tour operators, specialising in personal tours to Scotland and the UK. Each tour is tailored and organised to suit your wishes and requirements.

Scotland's Top Hostels
Suite 9, 28 North Bridge,
Edinburgh, EH1 1QG,
Scotland
Tel/Fax: +44 (0) 131 220 1869
e-mail:

With superb locations, excellent facilities, warmth, comfort and atmosphere, our chain of friendly Hostels will make your Scottish holiday unforgettable.

The Scotland Tours Company
30 Canmore Street
Dunfermline
Fife KY12 9YL
Scotland
Tel: +44 (0)1383 727 999
Fax: +44 (0)1383 727 927
email:

We offer the ultimate vacation planning service dedicated to creating wonderful vacations primarily to Scotland, Ireland, London and a few other carefully chosen areas of England.

MacBackpackers
105 High Street,
Edinburgh, EH1 1SG, Scotland
Tel: +44 (0) 131 558 9900
e-mail:

Take one of MacBackpackers excellent value tours and we can promise you a fabulous adventure in this truly inspiring landscape of castles, lochs, mountains and mist.











Transport
Travel Links
Public Travel Information Link, bus and train timetables for Scotland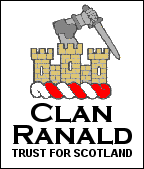 See Scotland's history come to life with Clan Ranald. View one of our three videos, or visit our website to learn more.
(Requires RealPlayer)