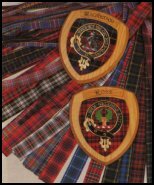 Macphersons offer a supply of bagpipes, drums and accessories. We also supply uniforms for Pipe Bands and all essentials for Highland and Country dancing.
There are many kinds of bagpipes available, other than the Highland, all revealing their kin to a common culture. Bagpipes can come in all shapes and sizes, with Ebony models available and Sterling Silver Bagpipes made to order, from £495.00

We also keep some Sets in stock. The mounts are available in a wide range of finishes including Imitation Ivory, Onyx, Horn and chased with a choice of patterns in Thistle, Zoomorphic, Shamrock,or Celtic, done on Nickel or Brass as well as Sterling Silver. The cover is available in a Tartan, Velvet or Corduroy choice of fringe. The mounts are made from wood, imitation ivory and nickel horn; with an onyx colour also supplied.

We can supply several well known makers of Pipe Chanters and Reeds, as well as Practice Chanters. The shop is also well stocked with tutorial books and videos for the bagpipe and the drum, pipe music books and cds.
All equipment for the Full Dress Piper/Drummer can be provided, from the Feather Bonnet to the Pipers Spats.