The Best of the National Trust for Scotland
The National Trust for Scotland is Scotlandís leading conservation organisation and is responsible for looking after and preserving over 100 properties together with nearly 100,000 acres of land. The buildings range from the magnificence of a Royal palace, such as Falkland Palace, the childhood home of Mary, Queen of Scots, and Culzean Castle, the masterpiece of the architect Robert Adam, through the great houses of the Scottish aristocracy and landowners. At the other end of the scale there are the humbler birthplaces of famous Scots such as J. M. Barrie and Hugh Miller. Examples of the works of famous architects including William Adam, Alexander ĎGreekí Thomson and Charles Rennie Mackintosh are carefully restored and furnished and are regularly open to the public.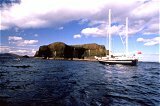 The National Trust for Scotland looks after many square miles of some of Scotlandís widest and remotest countryside in the Highlands and this, in keeping with being the countryís leading conservation agency, is managed in the most environmentally friendly manner. The National Trust for Scotland owns a number of islands, Fair Isle, world famous for its beautiful knitting; Staffa, with the magical Fingalís Cave immortalised by Mendelssohn in his Hebridean Overture and, far to the west of the mainland of Scotland, lonely St Kilda far off the beaten track for all but the most adventurous of travellers.
The National Trust for Scotland is a charity and depends on its members and visitors for revenue so a visit to a Trust property helps continue their vital work of preserving Scotlandís heritage.
One of the National Trust for Scotland's itineraries lasts for seven nights, and begins and ends in the majestic city of Edinburgh.
Day one

We start in Edinburgh with a visit to two famous National Trust for Scotland's properties. Contrast the two periods of Edinburgh's history: Gladstone's Land on the High Street, just a few hundred yards from Edinburgh Castle and reflecting life as it was lived in the early 17th century and then the Georgian House in Charlotte Square. This is a Robert Adam's masterpiece of urban architecture and is now a focal point of interest for visitors to the New Town.
Day Two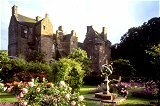 From Edinburgh we head over the Forth Road Bridge to Fife and visit Falkland Palace; the Hill of Tarvit Mansionhouse near Cupar where the house and garden were remodelled in 1906 by Sir Robert Lorimer. The house is renowned for it's collection of furniture, tapestries and painting. We shall also visit Kellie Castle part of which dates from 1360 before returning to Edinburgh.
Day Three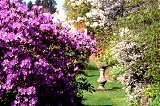 We leave Edinburgh and travel north to Branklyn Gardens on the outskirts of Perth. Known as 'the finest two acres of private garden in the country' you will see an outstanding collection of rhododendrons, alpines, herbaceous and peat garden plants. Our next stop is the site of the last land battle on British soil, Culloden Battlefield, near Inverness, where Bonnie Prince Charlie was finally defeated.
Day Four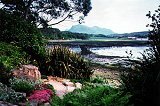 Our trip today takes us to one of the most beautiful gardens in Scotland, Inverewe. And we must travel through some of the most majestic scenery in Europe to reach our west coast destination. The Gardens are sheltered at the head of a sea loch, and because of this they are kept virtually frost free, allowing a profusion of exotic and unusual plants to flourish.
Day Five
Leaving Inverness we head east today towards Forres to visit Brodie Castle home to a superb collection of hybrid daffodils. We then travel to Leith Hall, near Kennethmont. Home to the Leith family since 1650 the house is built around a central courtyard and contains many personal possessions of successive lairds and a military collection. Our day finishes in Aberdeen where we stay three nights.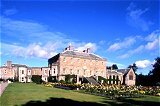 We will spend the next two and a half days visiting some of the National Trust for Scotland's finest properties in the north east of Scotland. Fyvie Castle which contains a magnificent collection of fine furniture and paintings. The lovely gardens of Pitmedden, and then to Haddo House designed in 1731 by William Adam. Drum castle is certainly well worth a visit with one of the oldest tower houses in Scotland and Castle Fraser.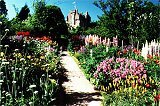 Our final day begins with a visit to Crathes Castle before journeying south to Edinburgh.