Home


About


Itineraries


Links


Contact Us
About Saltire Tours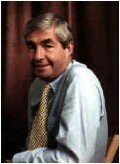 Chris Thornton brings a wealth of tourism experience to his new company, Saltire Tours Ltd, including as a hotelier, tour operator and for the last twelve years, as Head of Travel Trade for the National Trust for Scotland.
Chris has a particular knowledge of the United States travel trade, which has been gained through close liaison with the Scottish Tourist Board and being a key player in it's SCOTS programme. He has also been a regular exhibitor at the major travel trade shows: World Travel Market, British Travel Trade Fair and Scottish Travel Fair and has participated in the Scottish Tourist Board's 'Great Scots Roadshows' and many British Tourist Authority workshops.
Saltire Tours will specialise in arranging highly imaginative and personal tours with a cultural, historical or environmental theme. Chris will be able to take you 'behind the scenes' of great houses, castles and gardens using his extensive personal contacts. These people love sharing their information and anecdotes with kindred spirits - thus adding that magic touch to an already memorable holiday.