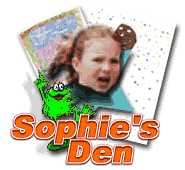 My story on holiday
I went to England for my holiday. We went to my Grandma's first, we were met by my Grandma and cousin Ellie at the Airport and then we had lunch nearby. After lunch we went to Toys'r'us and I got a Winter Wonderland which is great.
 
The next day we went to a butterfly farm and we saw lots of butterflies, lizards and fish. We also went to Hove, where we stayed for a week and then on to my other granny. One day we went to the Black Country Museum and on Wednesday we went to see Lucy and Wills and that's where we saw Dr Dolittle.
 
On Sunday it was Will's christening at Lapworth Church and that was nice - there were ten children at the christening and the cake had a ball, a rabbit and sun flowers on it. It was soon the last day of our holiday in England and we were taken to the Airport to get a plane back to Scotland.
My favourite things are still:
| | |
| --- | --- |
| Animal: | Seals |
| T.V. programme: | Blue Peter |
| Cartoon Character: | Felix the Cat |
| Food: | Pizza |
| | |
| --- | --- |
| This is Wills with his (and my) Gran. | |
This is my favourite virtual dog and his name is Spot, he's very good at cleaning windows.


Have a look at my drawing in My Gallery - You can have your drawing displayed there too. You can or snail mail your drawings (my dad told me to say that!).
 
I'm going to write lots more soon, so check back often and don't forget to send me an email, my address is
 
Bye for now.... Sophie

What's New | Rooms | Food & Drink | Leisure | Kids' Area | Offers | Inn Town | Feedback | Testimonials | Contact
Site Map | Links | How to find us | Booking form | Gallery | Home
Send mail to with questions or comments about this web site.
Copyright © 1999 The Inn at Lathones
Last modified: February 8th 2000
Design by